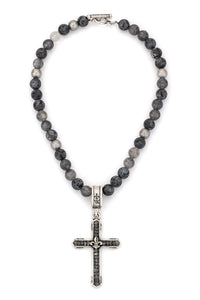 This necklace features 17" of French Kande's hand-curated Slate Mix with their exclusive FDL Oval bail and Labradorite FDL Channel Cross. Absolutely beautiful all by itself or layered with their other designs.
Strand Length: Short, 17"
Stone Size: 10 mm
Sterling Silver Plated
Channel Stone: Labradorite
Each piece of French Kande is handmade in their Los Angeles studio by Californian artisans.